Dancers come in all shapes and sizes, so it is always a challenge to garment a team and be sensitive to the needs of individuals. I believe we have come up with a very good solution to this issue in a garment we call the dance oval.
It is, essentially, a large oval of fluid fabric that has an opening for the head and is tacked at the edges to make an opening for the hands. This serves to keep the oval in place as the dancer moves. Any chasuble pattern can be adapted to make a dance oval. You'll need about 2-1/2 yards of fabric that is 60 inches wide. Generally, the best length is dress-length, or just a bit above the ankles. However, the oval can also be made in a poncho-style and length (either just above or below the knee), which works well for men. Fabric choices are not limited to white charmeuse, but that does work well! I've made some deep purple knit ones. Sometimes use them with gold, sequined yoke/collars. I have also made some that were beige & black striped linen with leather fringes for men. They had kind of a desert look.
The dance oval is a garmenting suggestion that provides both grace and modesty to all body types. It can be used under various tunic-like overlays, or another sheer oval can be worn over top of it to adorn it, as in this photo: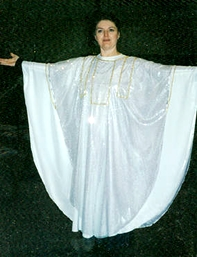 In our church (which is liturgical) we have made scapulars (long tunics) in the liturgical colors. The scapular defines a slender body shape in the midst of all the flowing fabric. You see one here: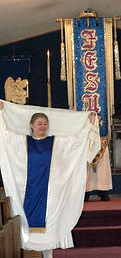 And another one in this pic, while using flags. At first we thought the dance ovals would inhibit flag movement, but have found that it works just fine in most cases.
Dance ovals and scapulars and patterns are now available in the ZionFire Shoppe:
https://zionfire.com/shoppe