I've been kind of scarce around here for the last six weeks or so. Been busy, busy, busy. Wanted to show off what a few woodturner clubs here in the Kansas City area have conspired to do together for an organization called the Freedom Pen Project. Woodturners create turned pens for the US Armed Services troops stationed in the Middle East, ship them to the Freedom Pen folks who then distribute them to various units' commanding officers who then distribute them.
Our gang in KC spent 4 Saturday mornings at the KCWoodturners' clubhouse on their 11 lathes and made a BUNCH of pens. The pix below show about 330 of them. More are done, but not in my hands, and thus not in the picture. The tree here is about 48" tall with the other picture a detail shot.
<IMG content="http://i54.photobucket.com/albums/g101/DeanGThomas/WoodStuff/FPPens01.jpg">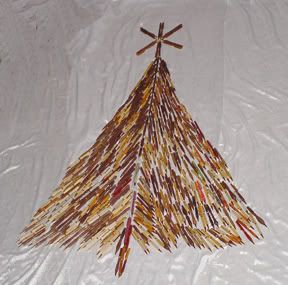 <IMG content="http://i54.photobucket.com/albums/g101/DeanGThomas/WoodStuff/FPPens05.jpg">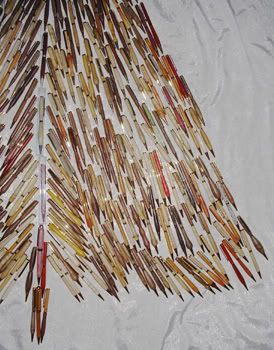 About half are 40-year-old walnut that came from a factory that produced rifle stocks for the military. The cut-offs were purchased 40 years ago by a new friend who donated about 250 pens worth of walnut for this year's effort (he's promised more for next year, too). The rest are maple, flamed box elder, corian, makore, red alder, hickory, padauk, cocobolo, cherry, elm & myrtle burls, Kentucky coffee bean, sycamore, and a few other species that don't come readily to mind at the moment. There were a number of the infamous mystery wood variety as well.
A great time had by one and all. But now it's time for me to get on with Christmas presents for the REST of my world!
antawave: HoHoHo!