a banner for Pro-Life intercession
And are not two sparrows sold for a penny? And yet not one of them will fall on the ground without your Father's leave and notice. --Matt. 10:29 Amplified
Jesus is referred to in the writings of the early church fathers as the "Father of Life". The title is always used in reference to Adam, who was considered the "Father of Death", because he brought sin into the world. Jesus, the Second Adam, breaks the curse of the old Adam and is therefore given the name "Father of Life".
On the banner, the cross is depicted as a "tree of life." The cross represents Jesus. Branches on the "tree" bring forth tiny new green leaves. The fresh, new leaves represent the babies we pray for. They spring from branches which grow out of "wounds" on the Tree of Life. These lives have been purchased by the blood of Christ before they have even come forth.
Some leaves have been detached from the branches. These are brown and are falling to represent the lives of the babies that have been killed by abortion.
At the base of the "tree" is a pile of dead leaves, but these are not like the falling leaves. They are gleaming and silver (the color of redemption). They represent the souls of the dead babies who have been gathered back into the bosom of the Father of Life. He knows each one, and He will care for them throughout eternity.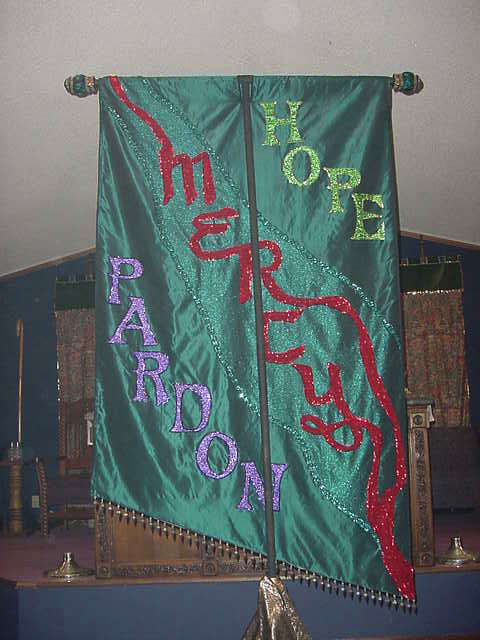 As a father pities his children, so the Lord pities them that fear him. For He knows our frame. He remembers that we are dust. As for man, his days are as grass, as a flower of the field, so he flourishes. For the wind passes over it , and it is gone; and the place thereof shall know it no more. But the mercy of the Lord is from everlasting to everlasting upon them that fear him. --Psalm 103: 13-17
The three words on the back: Hope, Mercy, and Pardon are virtue touchpoints for intercessory prayer. The word Mercy flows through the center as a stream of the Redeeming Blood.
There is mercy available for those who have participated in these murders. We must pray that they turn to the Father, confess their sin, and that He pours out His mercy upon them. With that mercy comes new hope, and relief from condemnation.