He will give His angels charge over thee. -- Psalm 91:11
This is a banner that I built in 2002 as a gift to a favorite aunt. She loves angels, and has many representations through her home. I designed a banner for her that depicts angels as strong, masculine warriors. The four angels surround a psalmic blessing.
The banner hangs mid-way in a 3 story atrium that houses a library and a cupola outfitted with colored glass windows. As the sunlight moves around the room, the changing colored light gives the banner an ever-changing glow.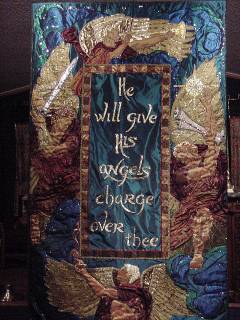 <--(Click to enlarge)
The design of this banner was adapted (with permission) from original dustcover artwork by Thomas Klauba for the book
What the Bible Says About Angels
by David Jeremiah. We highly recommend this book for a scriptural understanding of angels.
click to enlarge close-up pictures:
Northern Angel: Blows the trumpet, a symbol of the voice of God. This angel's ministry is to warn of impending danger, and to summon the heavenly hosts to do battle for us.
Southern Angel
: Offers incense, the symbol of intercession. This angel's ministry is to remind us that there is continuous intercession rising up on our behalf.
Western Angel: Wields a large sword, a symbol of the Word of God. This angels ministry is to point us to the Word.

Eastern Angel
: Holds the scroll: symbol of prophecy. This angel holds the certainty of the future, which is under the authority of our Lord, the Morning Star.